The ordinary arts we practice every day at home are of more importance to the soul than their simplicity might suggest.
Thomas More
.
Guess what! Guess what! After a long, dry, hot, record breaking summer, I got to wear my rainboots out to the barn this morning! Beautiful, cool, life giving rain has been falling from the sky! What a glorious gift of nature! In a matter of days, we have gone from 110 degrees in the shade to 56 degrees with 100% humidity. I love Oklahoma!
Simple Air Freshner
With the wet weather comes wet dogs. Nothing smells quite as funky as a wet dog in the house unless it's three wet dogs in the house. So I put together a simple homemade air freshner with the oranges Brother Dave and Vicky gave me. I have a very small simmering crock pot so I put some water in it with the orange peels, threw in some cloves and the lovely smell is now filling the air. So Simple.
For something to be good, it doesn't have to be complicated or expensive. This is Becky's favorite chocolate cake recipe from allrecipes.com:
Unbelievably Easy Slow Cooker Black Forest Cake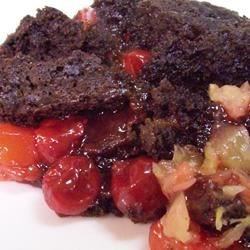 Ingredients
1/2 cup butter
1 (8 ounce) can crushed pineapple, drained and juice reserved
1 (21 ounce) can cherry pie filling
1 (18.25 ounce) package chocolate cake mix
Directions
Melt the butter in a small saucepan, and mix with reserved juice from the can of pineapple. Set the mixture aside.

Spread the crushed pineapple in a layer on the bottom of a slow cooker. Spoon the cherry pie filling in an even layer on top of the pineapple, and empty the dry cake mix into the slow cooker on top of the cherry filling. Stir the butter and pineapple juice mixture, and pour it over the dry cake mix.

Set the slow cooker to Low, and cook for 3 hours. Spoon the dessert into bowls, and let cool about 5 minutes to cool the hot pie filling before eating.
Friday is the first day of Autumn and with it my favorite time of the year begins.
It's the time of the year for the joy of the fall harvest. What a baking Mecca! Pumpkin bread, apple pie, Thanksgiving turkey, stuffing (Rachel Ray has an awesome recipe for apple and onion stuffing), Indian Corn and lots of other things that make me simply happy. I love it as the scent of fresh baked goodies fill the tranquil air of our home. I am blessed beyond measure!
David and Vicky also gave me four ripe peaches that I made into this simple peach cobbler. This recipe is available at allrecipes.com.

Simple Gift From the Kitchen
I love pretty pre-measured gifts in a jar and I love Snickerdoodle Cookies. So it gives me pleasure to gift someone with this easy to bake gift. This recipe is in Gifts in a Jar: Cookies

book.
2 3/4 cups all-purpose flour
2 teaspoon cream of tartar
Layer the ingredients in the order given into a wide-mouth 1-quart canning jar. Pack each layer in place before adding the next ingredient. Makes 4 to 5 dozen cookies.
Attach a gift tag with the mixing and baking directions which are as follows:
1 jar Snickerdoodle Cookie Mix
1 cup butter or margarine, softened
Preheat oven to 375 degrees F. In a large bowl, cream the butter until light, add the eggs and beat, until the mixture is smooth. Add the Snickerdoodle Cookie Mix and continue to beat until the dough begins to form. Combine the sugar and cinnamon in a small bowl. Shape the dough into 1-inch balls and roll in the cinnamon-sugar blend. Arange on ungreased cookie sheet and bake for 10 to 15 minutes or until light tan. Transfer to wire racks to cool.
Simple Pleasures
Maggie and Molly just hanging out.
Proud parents of first born mini donkey baby boy who thinks he is suppose to sit in David's lap.
Just born Tuesday, new baby girl.
Never lose an opportunity of seeing anything that is beautiful; for beauty is God's handwriting - a wayside sacrament.
Welcome it in every fair face, in every fair sky, in every fair flower, and thank God for it as a cup of blessing.
~Ralph Waldo Emerson
Afterthought:
Still saving lots of money using coupons. Our stockpile for the long winter months is growing and our daily meals have improved with a large selection of items to choose from.
These are just some of our grocery items we have purchased with coupons. It does not include the freezer or fridge. Or the laundry, bathroom, beauty or cleaning products we have stocked up on using coupons. Rarely do I ever make a purchase without a coupon. I'm loving our new "legal" coupon currency. Life is good!